AOL users: deselect "Use Compressed Graphics" in your Web preferences settings.
Lots of photos here, so this page takes a long time to load on your screen.
If a picture does not appear, right click it and select "Show Picture" or "View Graphic."
---
BOTTOM CREEK SCHOOL
1936-1939
The following provides a bit of McDowell County history and a story about Bessie Williams Kitts, one of the school's earlier students. Thanks to her daughter, Verla Barr, for sharing these photos and memories with us:

| | |
| --- | --- |
| Bessie Louise Williams was born on Little Flat Top Mountain in McDowell County, WV in 1913. That same year her father, Thomas Alexander Williams, donated a parcel of his property to the Browns Creek District Board of Education to build a school that Bessie would later attend for eight years. During her last four years of school she caught a bus from Keystone to Welch to attend high school and earned her diploma in 1930. She went on to receive a teacher certification at Concord College and returned to the one room schoolhouse on Little Flat Top Mountain to teach. | Welch High School - 1913 |
Bottom Creek School

When that school burned, she accepted an assignment at Bottom Creek School where she taught until she was married in 1939. On September 15, 1936, Bessie
wrote to her future husband: "I have 36 children in school; all grades from 1-7. But I like it just fine. The school is 1 1/2 mi. from Kimball. You turn off from the big curve at the lower end of Kimball - to the right - up the hollow. 'Visitors Always Welcome' is my motto…. You should have been down some last week. There was a carnival at Vivian."
Again on October 1, 1936 she wrote: "Now to tell you where Rockhouse is: In going to Careswell there is an overhead bridge right after you leave the state highway. Turn back to the right at this bridge. Follow this road for 1 1/2 mi. - that will be to the top of the hill. You will see a frame house and right to the left on a knowl is my second home - the school." On April 13, 1937 she sent a post card that read: "We are having a pie supper at my school Sat. April 17 and want you to come. It will begin at 8:00."
| | |
| --- | --- |
| Bessie in 1937 | Bessie & friend Agnes (last name unknown) |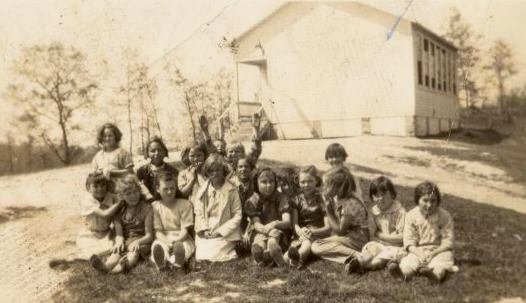 The girls at Bottom Creek School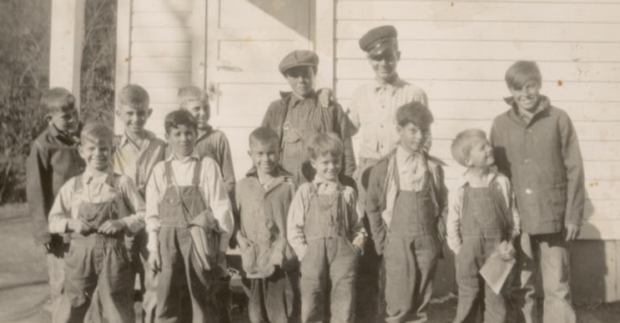 The boys at Bottom Creek School
When she married in1939, Bessie moved to Tazewell, VA. In the mid-50s she and her family moved to Florida.
---

If you can identify any of the people in these photos, please contact Donnie Skuja.